It's unbelievable that I'm now more than one month in Asia already. On the other hand, I've seen so many places and met so many nice people that it could be also two or three months. So let me tell you about my last few weeks.
After the lantern festival in Shiang Mai, Ahmed and me took the night bus back to Bangkok. A normal bus ride that turned out to be a really funny story. We booked the VIP Bus with food and wifi. We left Shiang Mai at 8 pm and were supposed to arrive in Bangkok at 6 am. After that we booked a flight south to Krabi because we wanted to spend some days on the beach in Ko Lanta. But let's get back to the bus ride. When we got on the bus, of course the wifi was broken. At first we joked around that the food would also be broken. When the bus stopped at 3 am and there was no food everybody was just shaking their head. The bus driver said that they just forgot to stop at the food place one and a half hours ago. When the bus stopped one and a half hours later at the food place we couldn't believe it. We where only two more hours away from Bangkok and the bus driver decided to turn around and go all the way back to the food place. Everybody was so pissed, that nobody got out of the bus. Especially the ones with a flight or another bus shortly after were really angry. Luckily for us it was not that big of a deal. When we arrived in Bangkok at 8 am, two hours later than planned it was actually better for us because we could sleep two more hours. A couple from Canada that was sitting behind us missed their flight though. Ahmed and me just relaxed a bit, had breakfast and then we went to the airport to catch our flight to Krabi.
We spent one night there and then took the minivan to Ko Lanta. Ko Lanta is a beautiful island and although we already planned to stay there for five nights, we extended our stay to one week. The hostel and the people where so nice so we really had a good time there.
If you ever happen to be in Ko Lanta, check out the Hub of Joys Hostel. It's only three minutes to the beach, great breakfast and amazingly friendly staff. Most of the days we rented a scooter and explored the beautiful beaches on the island. In the evenings we were just playing cards in the hostel. In the common room there where always people around.
After Ko Lanta we spent one night on the party island Ko PhiPhi. It's a beautiful island but one night was enough for us.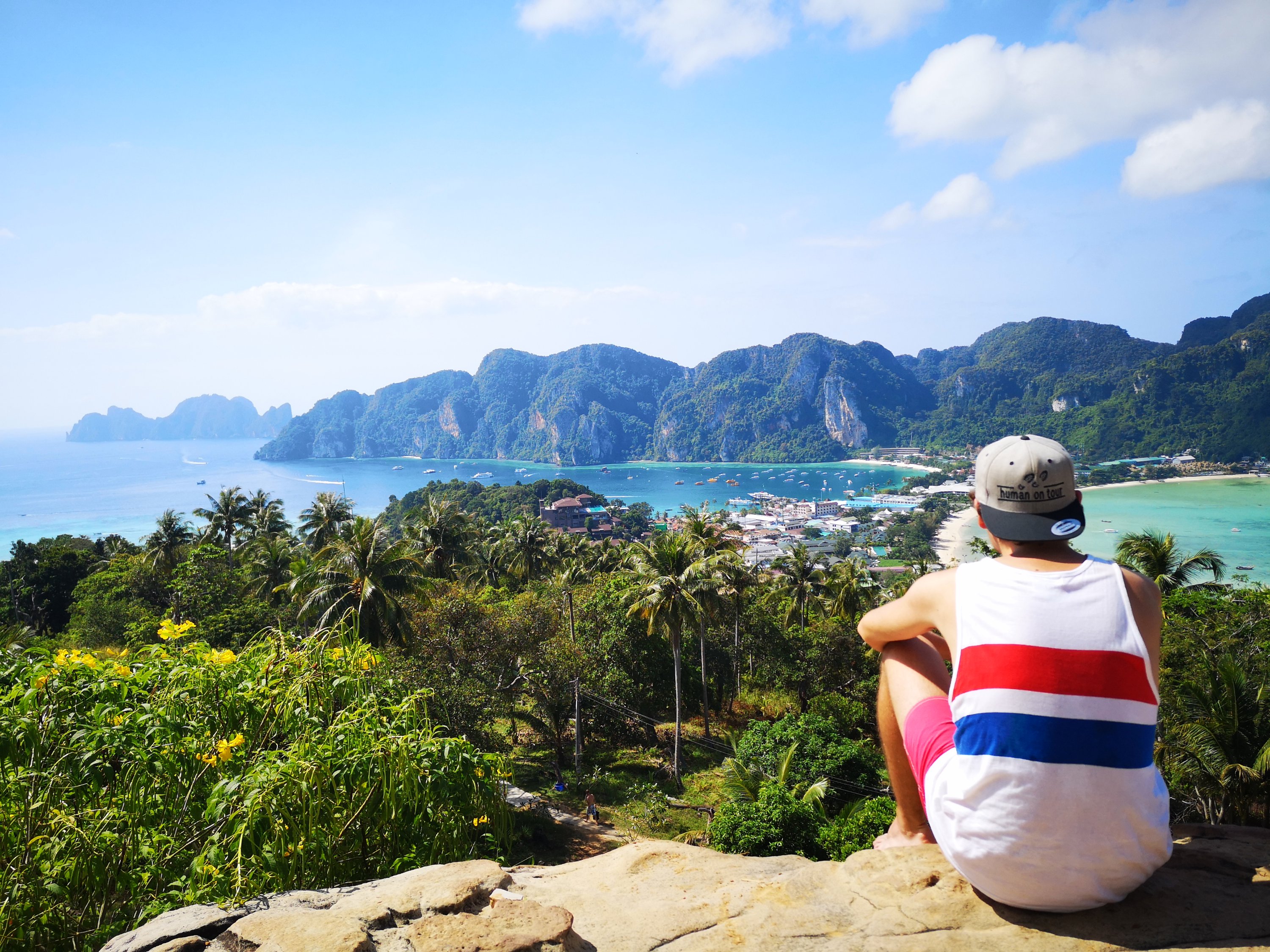 Everything there is just for tourists and all the tourists are there to get drunk. Not really our kind of traveling. After Ko PhiPhi we spent two more nights in Krabi before it was time to say goodbye to Ahmed. The last evening, we went to the tiger cave temple. It's a temple on top of a mountain and the view is amazing. It takes 1260 stairs to get to the top. We watched the sunset and then we climbed back down again.
The next day in the morning Ahmed flew to Bangkok from where he had his flight back home.
I want to thank you Ahmed for being part of this trip. I enjoyed traveling with you a lot. You are awesome.
After saying goodbye to Ahmed I continued my journey alone. I took the bus and then the ferry to Ko Tao, which is mostly known for diving and exactly the reason why I was going there. I did my Padi open water diving license.
In three days I learned the theory about diving, did a lot of skill trainings under water and mostly I saw amazing wildlife under water. The great thing is, that all the fish never learned that they have to be scared of us humans, so they are not afraid and some curious ones come really close. After two already great days, the highlight was on the third day. My diving instructor told me in the morning, that there might be a chance to see a whale shark that day. Guess what, we really saw a whale shark. I cannot believe how lucky I am during this whole trip.
My diving instructor is on Ko Tao for four years now and he told me that he saw a whale shark maybe six or seven times in those four years. I'm just incredibly lucky and thankfully another girl brought her gopro so she sent me some pictures and videos.
While being on Ko Tao, my friend John, who I met in Tallinn and then again in Poland and also in Vienna during my time back in Austria, texted me to tell me that it's too cold in Europe to cycle so he decided to come to Asia as well. He booked a flight to Singapore and I told him about my plans of going to Borneo first and then celebrating Christmas in Singapore so we decided to go together to Borneo.
We met at the airport in Singapore a couple of hours after he arrived there and then we flew to Kota Kinabalu.
We stayed two nights there, went to the beach and played volleyball with the locals. It was great fun. After that we took the bus to Sepilok, where we visited an orangutan sanctuary and also a rescue center for sunbears, the smallest bears on earth. It was nice to see how they help the animals so they can be released to the wild again.
After that we did a river cruise on the Kinabatangan river. It took three days and two nights and we where in the jungle in the rain forest. We did river cruises, jungle tracks and night walks. We saw a lot of monkeys, a couple of crocodiles, a wild orangutan, a lot of birds and much more.
Now John and me, we're back in Kota Kinabalu where we're going to spend the next three days and then we're going back to Singapore to spend Christmas over there. I'm already looking forward to that.
Here are some more pictures of the last weeks: