The last weeks were so busy that I didn't find time to write my blog. This is why now it's going to be a longer post because so many things happened.
The last post I ended with coming to Riga and Riga was great. I spent five days with my friends there. We went to the Sigulda national park, watched a horror movie in the cinema, went out in Riga's underground, watched the sunset at the light house and much more. A big thank you to Irina, Kristina and Andrey for that awesome time.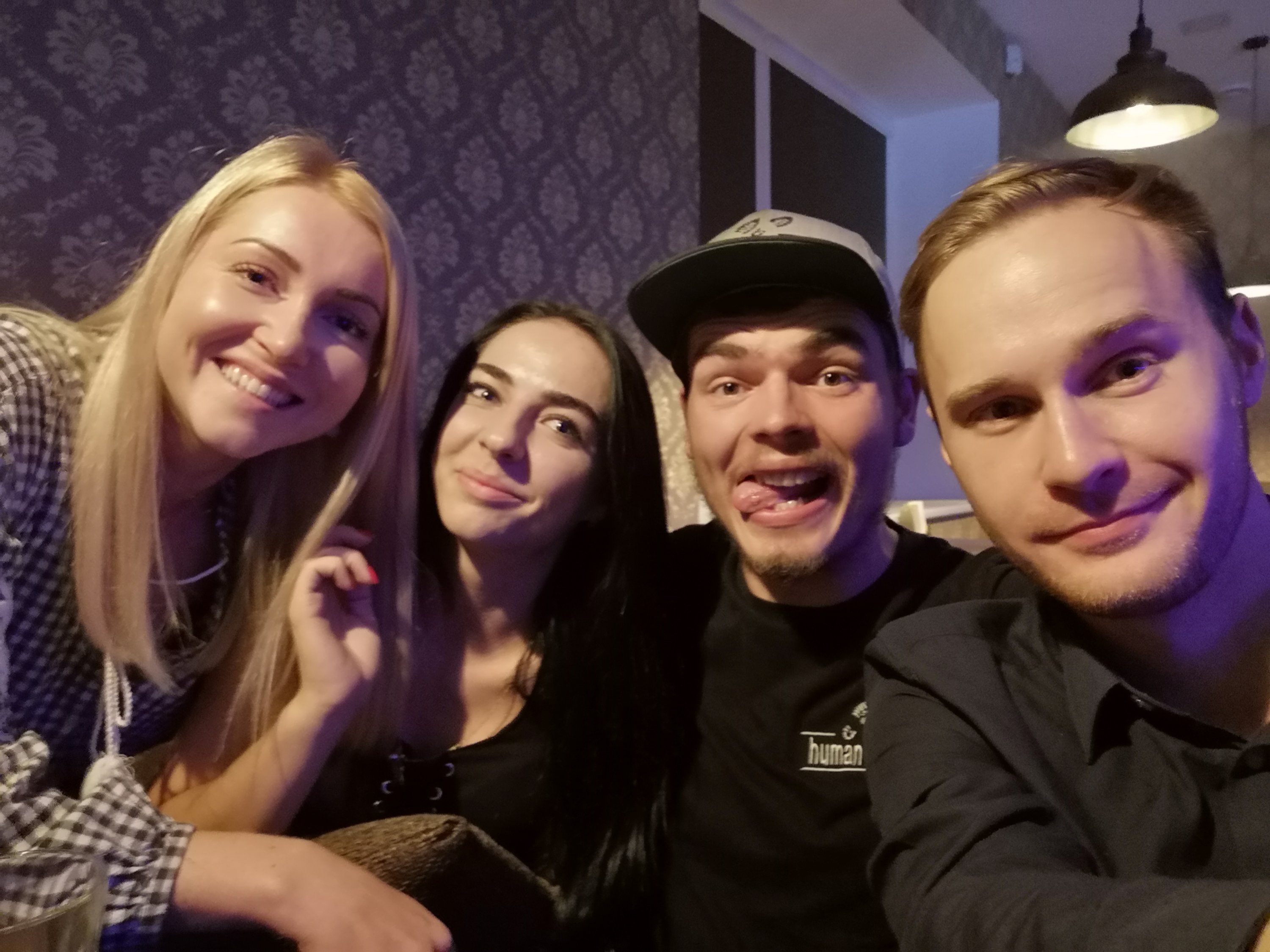 After Riga I continued alone again. Every time when I spend some time with other people it feels strange to be alone again. Nevertheless I wanted to enjoy this time being alone because soon one of my friends will come to visit me in Vilnius. Before that I hitchhiked to the west coast of Latvia. On my way to Ventspils a young couple picked me up and although they did not want to go to Ventspils, they decided to make a daytrip there and show me around so they drove me all the 80 kilometers to Ventspils and we spent the afternoon together.
I found a great place to sleep in my tent next to a lake and the next day I continued to Kolka, which is a small town in the very north of the Latvian west coast. I arrived at noon and it felt like I was stranded on a lonly island. No other people, just me and the sea. The weather was great but still after some time I got bored. In the movies this looks like a big adventure but in real life after not even two hours I was so bored that I decided to head back south. I catched some rides fast but I couldn't make it all the way to Liepaja. In Jurkalne I decided to stay for the night and it was the best decision that I could make. The place I found there was without a doubt the best place that I slept in the tent ever. There was a big sand beach, perfect weather, no clouds and a beautiful sunset in the sea. In that night I decided that this would be my last night in the tent because it cannot get any better than this. See yourself:
The next day I continued to Liepaja where this guy picket me up and on our way we stopped at some shops because his job was to sell alcohol to those shops. At one point he asked me if I already tried the best Latvian beer. I declined so he came back with a bottle of beer for me. That was not what I expected at 11 am.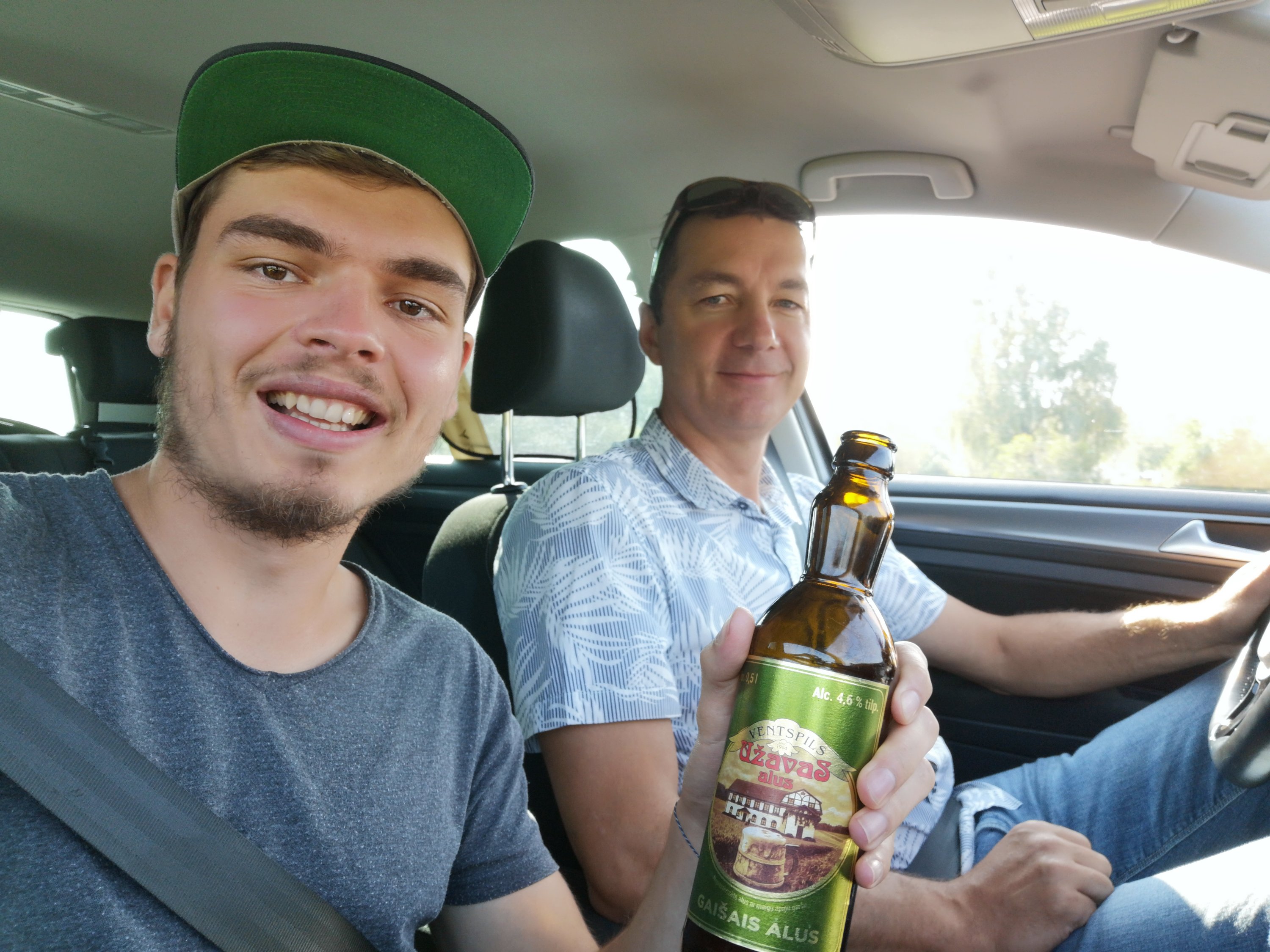 After that I spent one night in Liepaja, the next day I continued to Lithuania to Palanga, spent another night there and then another night in Klaipeda. As I stayed in hostels from now on, I met more people there. In Palanga I met a couple from Lithuania and they offered me to take me to Kaunas two days later. I agreed so I continued the next day to Klaipeda, where I went to see the sand dunes in Nida. After one night there, where I met a nice girl from Hongkong, the couple from two days ago, Aidas and his wife picked me up and took me to Kaunas, where we went to see Žalgiris Kaunas, one of the best basketball teams in Europe. It was great fun and cool atmosphere in that modern arena.
In Kaunas I also found out, that the pope Francis was about to come to Kaunas the next day. I decided to wake up early to see that event. When I arrived at 8 am in the place where he would hold a holy mass at 10, there where already 70000 people there. Luckily I was able to get a free ticket and then I also entered that area. It was unbelievable what a big thing that event was. After one and a half hours of waiting he arrived. In his papa mobile he drove past me but he didn't stop for a hitchhiker like me.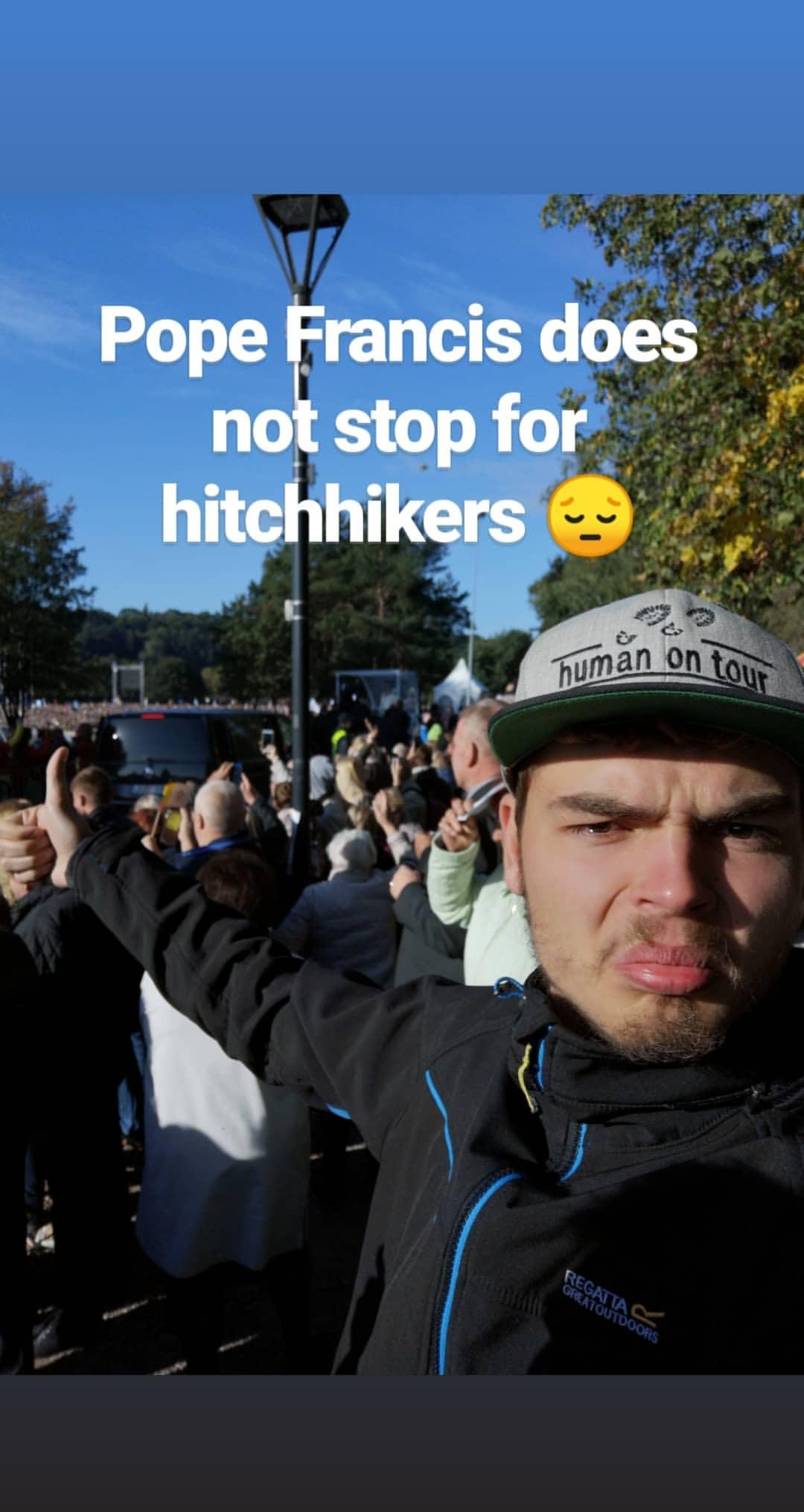 In the afternoon I met up with Joyce again, the girl from Hongkong that I met in Klaipeda. She also wants to go to Vilnius after Kaunas so she decided to join me for hitchhiking from Kaunas to Vilnius. It worked well and in Vilnius we met very cool people in the hostel. One day we rented a car and Joyce, Sam and me, we made a road trip to the hill of crosses.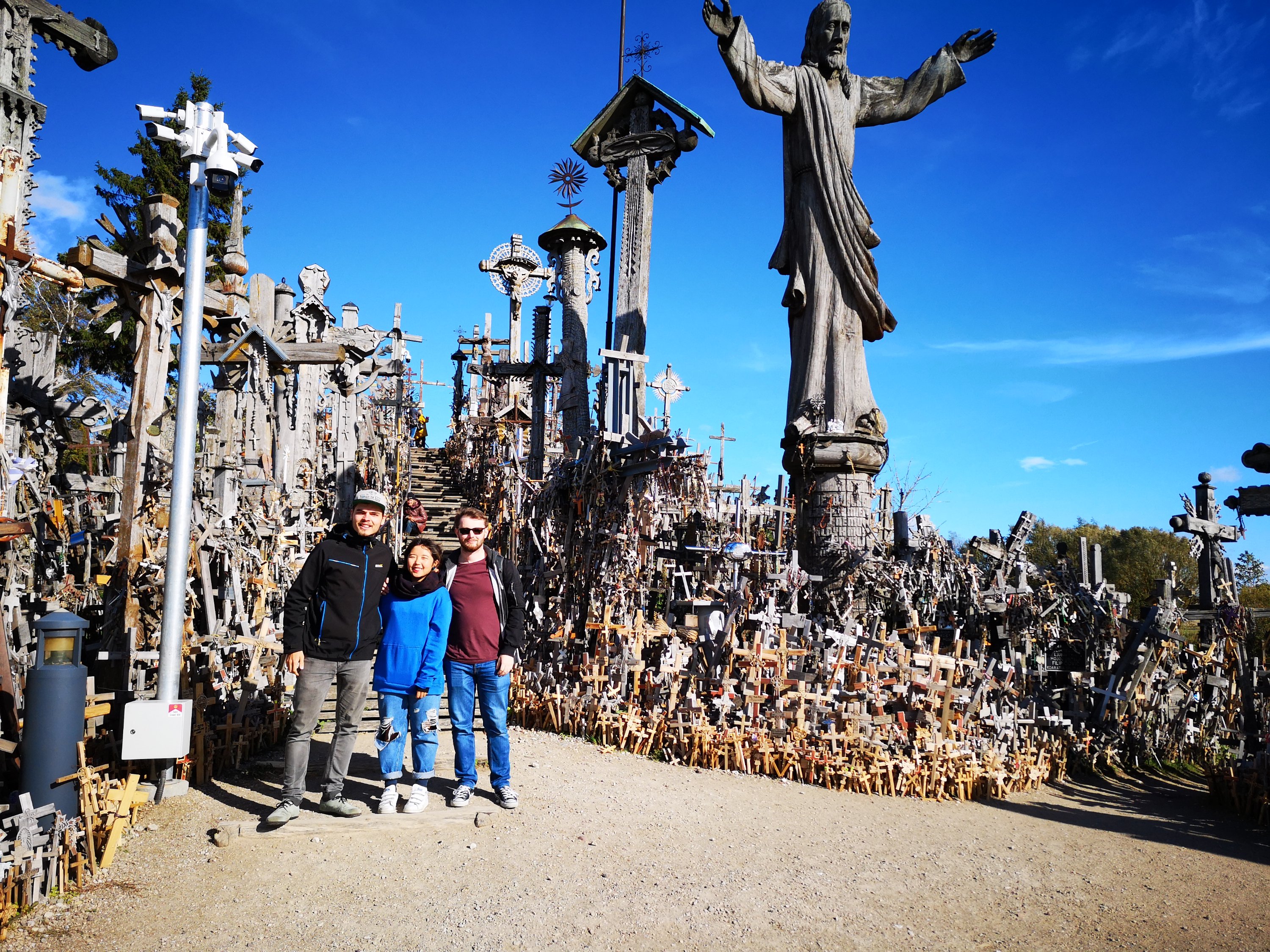 It was so much fun in Vilnius. We met Victoria and her brother Daniel from London and even after this few days we had so many inside jokes we kept laughing about. #blessed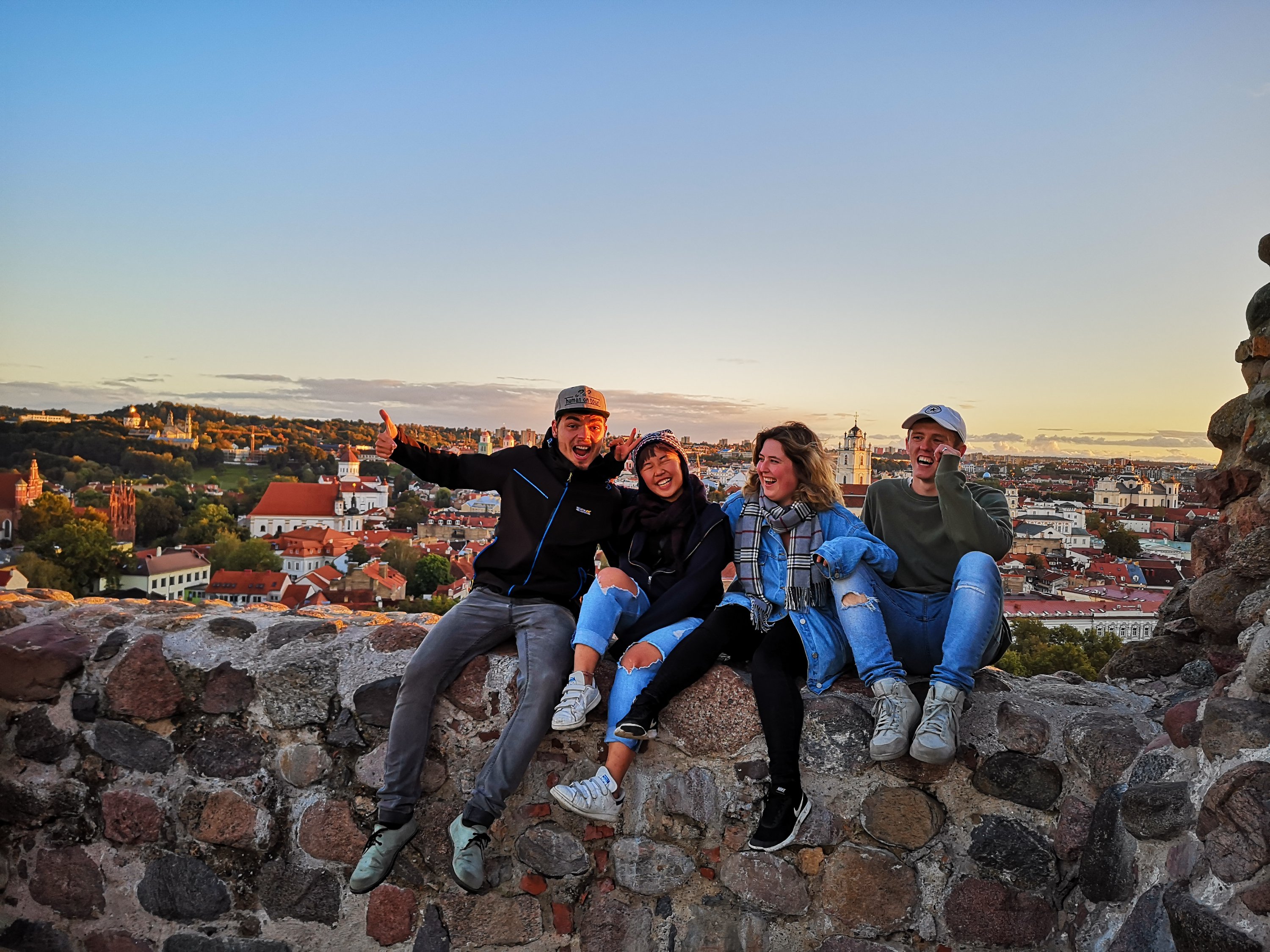 I spent four days in Vilnius and then Lukas came to visit me. He was my first stop in Linz back in Austria and now we're going to hitchhike together for 10 days. We stayed one more night in Vilnius and the next day we started our adventure. First we only went to Trakai, where there is a beautiful castle.
Then we wanted to go to Poland to Gdansk. It was already afternoon and it was very cold. We waited at the main road from Lithuania to Poland but not many cars passed. After two hours of waiting a Russian Maserati stopped. We couldn't believe it.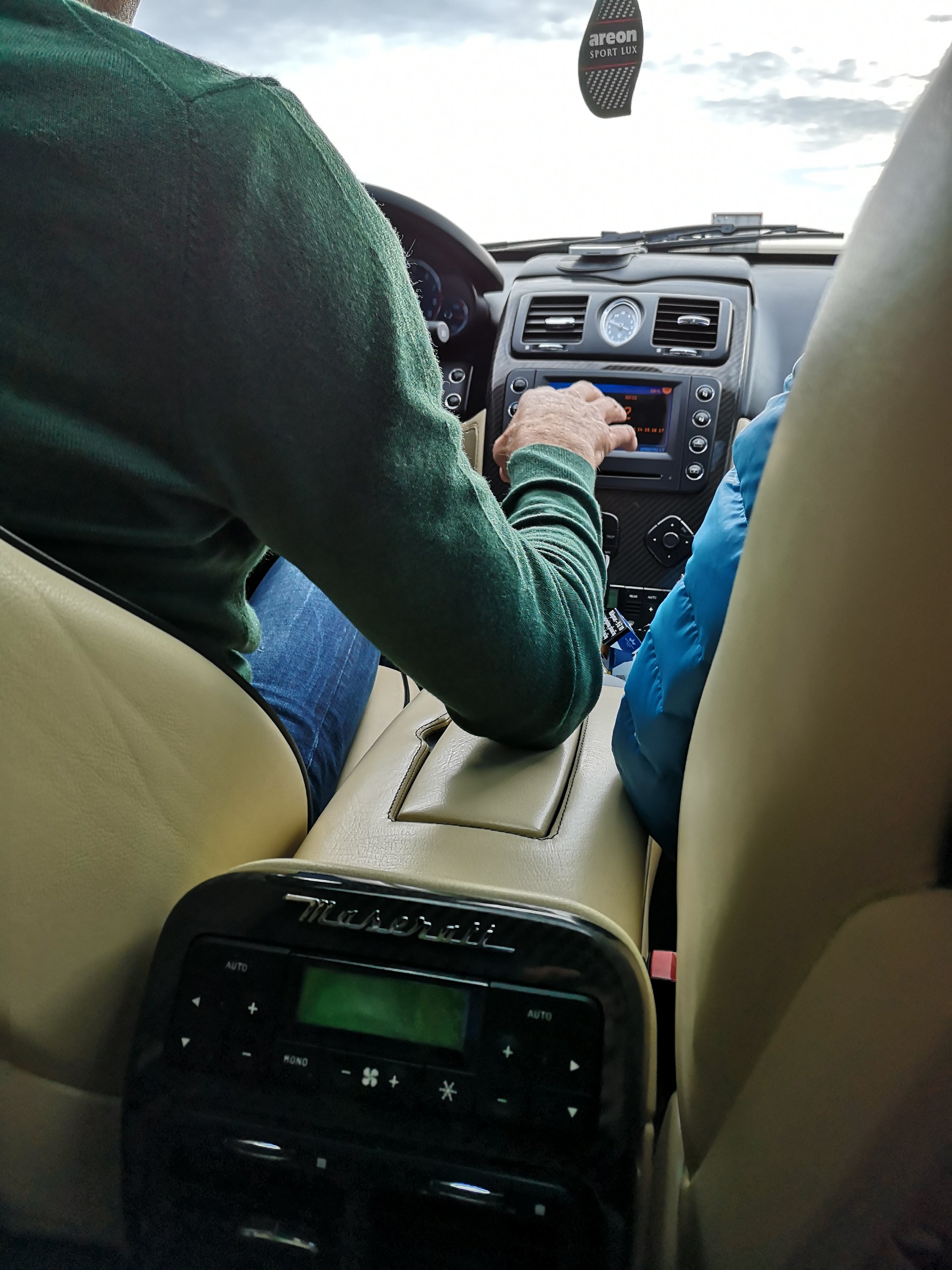 This guy told us that he would go all the way to Warsaw so we decided that we would also go to Warsaw. I texted Emilia, a friend of mine from the Erasmus + project in Turkey. She said that we can stay at her place and that's what we did. Even though it was Sunday, we went out in Warsaw and luckily Emilia was free the next day so she showed us around in Warsaw. We met up with some friends from Lukas and also John, the guy from the Netherlands that I met in Tallinn.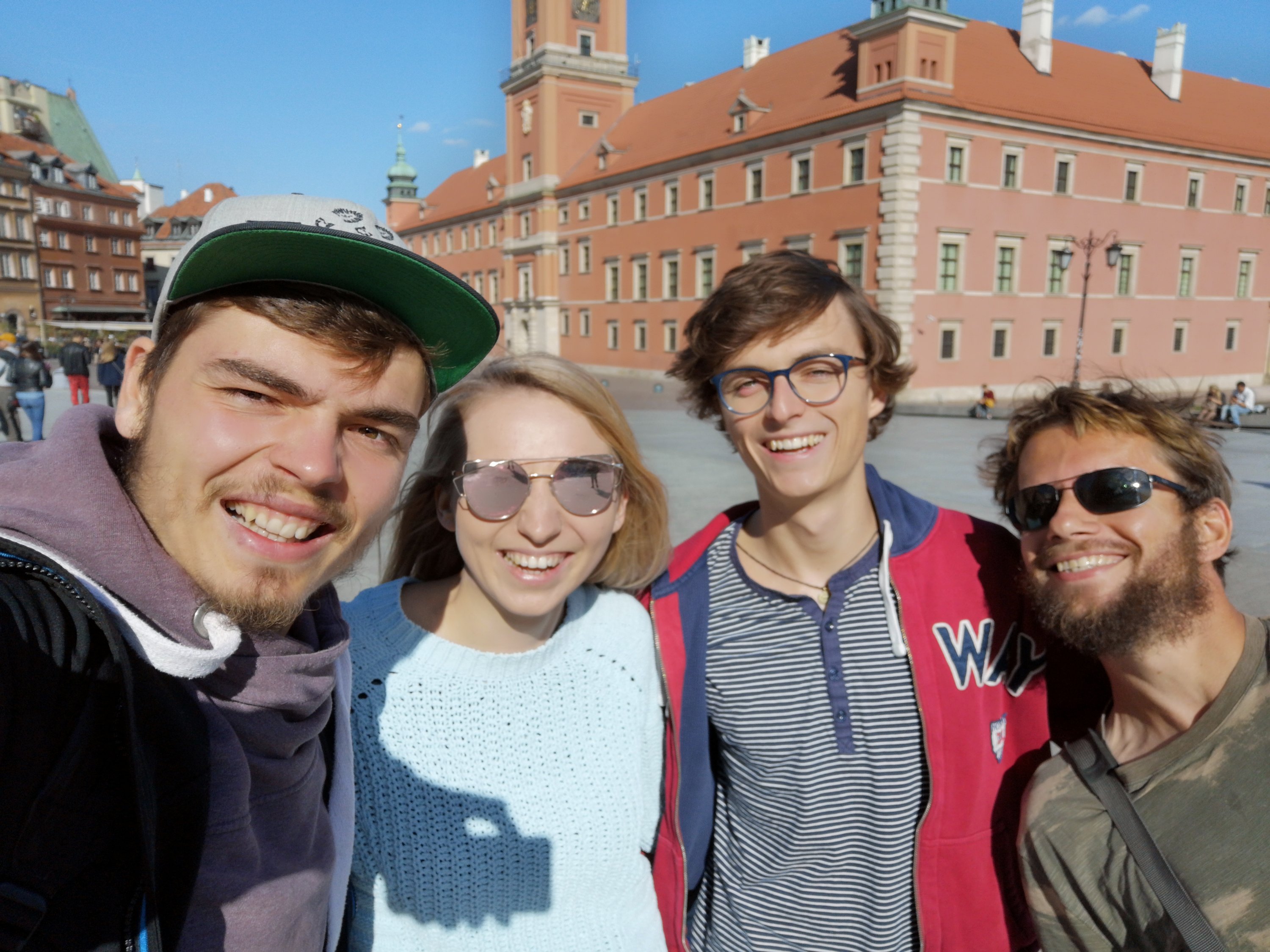 We stayed one more night and the next day we hitchhiked to Gdansk. It went really well this time. Gdansk is a beautiful city. Unfortunately it is already very cold and Lukas and me we're both a little bit sick. We met up with Sam again. He is also traveling through Europe. Then we tried to hitchhike south to Krakow. We were not lucky that day and at 5 pm we were still only 170 kilometers away from Gdansk. Luckily one guy stopped that went all the way to Warsaw so we ended up in Warsaw once again even though we didn't even want to go there. Emilia was so friendly and hosted us again. We went out for a karaoke night and the next day Emilia joined Lukas and me to hitchhike to Krakow together. I was a little bit afraid that nobody would stop for three people but we were lucky and in the afternoon after four different cars we made it to Krakow.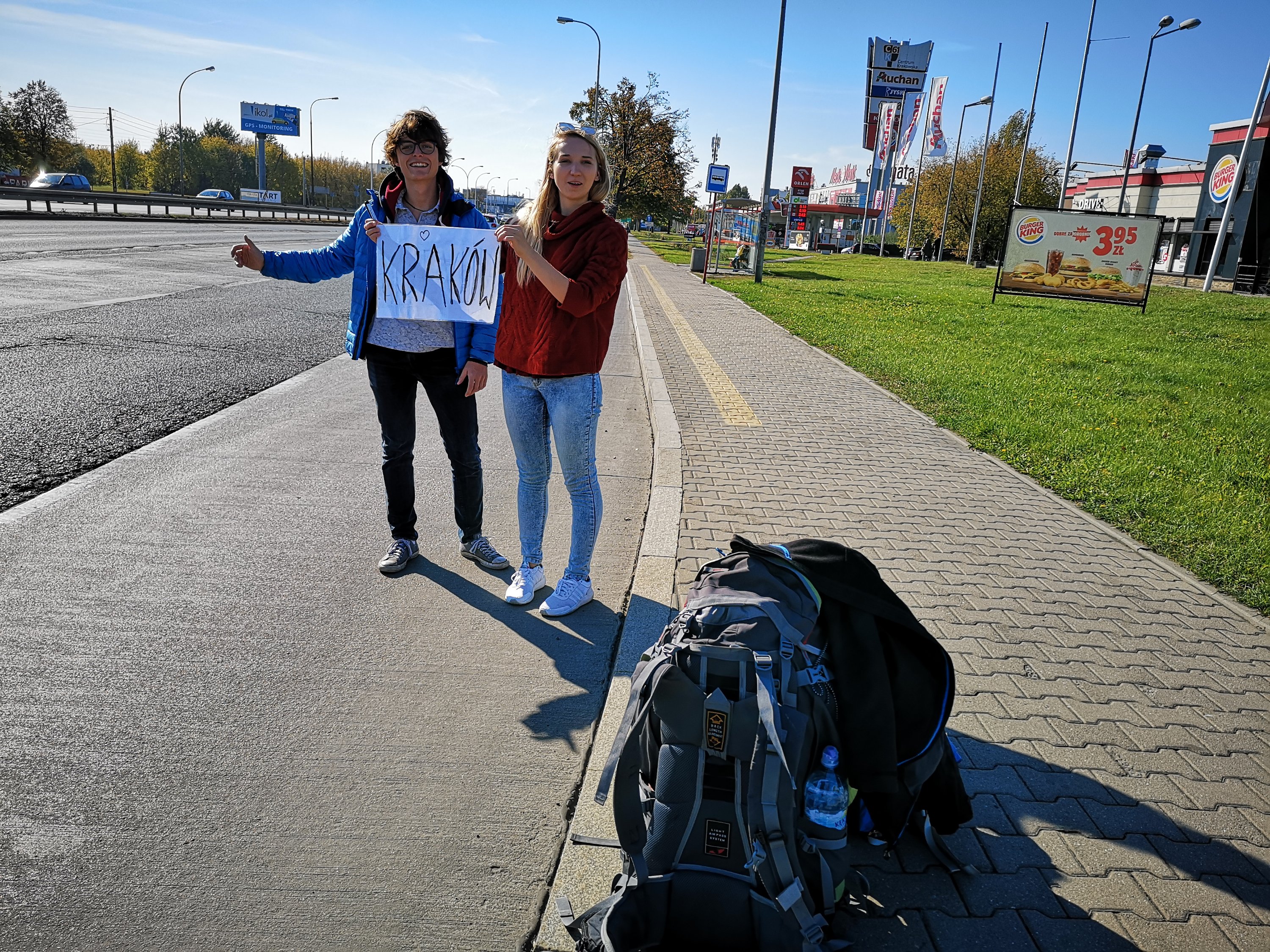 In Krakow I was impressed how many people were out in the streets. Even at 2 am but the semester has just started and there are more than 200 000 students in Krakow. I stayed three nights in Krakow and went out every evening. On Monday Lukas had his bus back to Vienna.
Thank you Lukas for joining me on this trip. It was nice to walk along with you.
After I brought Lukas to the bus station I met up with Milena, another friend from the Project in Turkey. I love it when I have friends in different countries of the world. We also met John again and then we went out with Livia from Romania and Samantha from Singapore. It was a fun evening.
After that I hitchhiked to Wroclaw and Poznan where I spent one night each. On my way to Gdansk, where I arrived yesterday, an 80 years old guy picked me up and he even invited me to a restaurant for food. There's no age limit for picking up hitchhikers.
It is funny that at the same day I got invited a second time for food. In the evening one guy invited me to his house a little bit outside of Gdansk before he dropped me right in the center at my hostel. These are the special moments that I'll remember for a long time.
Tomorrow on Saturday my best friend Liam is coming and we're going to participate in another Erasmus + project here in Gdansk. I can't wait. Gdansk is now my last stop for the trip in Europe. After the project I'll head back home. I'm looking forward to seeing my family and friends again.
I'll keep you updated on my plans for what's coming next.
Here are more pics from the last weeks: