After Norway I continued to Sweden. I wanted to go straight to Stockholm because I knew that on the 15th of August I was going to meet Evelina, a good friend of my best friend Liam on Aland, which is the island between Stockholm and Finland. It took me two days to hitchhike from Oslo to Stockholm.
In Stockholm I stayed in a hostel for two nights because in the cities it is difficult to find a place for the tent. Evelina recommended me the Crafoord Place Hostel. So this is where I went. The next day I took part in a free walking tour, where a guide is giving a free tour for around two hours and in the end you can tip him if you want.
It was a very interesting tour, we learned about the history of Stockholm and the original story behind the stockholmsyndrom. The best thing was, that I met three other people that were also traveling alone. Jorge from Spain and Judith and Alina from Germany. We got along very well from the beginning so we decided to spend the rest of the day together.
In the evening we went out and one guy from my hostel, Marco from Italy joined us as well. It was a fun evening. We tried Mead, which is some kind of alcohol made out of honey. It was a funny evening.
Especially Judith's story was interesting. She was studying in Vaasa, Finland and after that, she decided to drive back home to Germany on her old bicycle. She really recommended me to. go to Vaasa when I'm coming to Finland. She is writing about her trip for a german newspaper and after a couple of days she sent this:
So funny to see your own face laughing out of a newspaper.
For the next day I had an overnight ferry to Aland. Aland belongs to Finland but people are speaking Swedish there. I expected a ferry and was surprised when I came to the harbor and a big cruise ship was waiting there. It had 11 decks with restaurants, spa and casinos on it. I had a small cabin with my own bathroom in it. I slept very well and we arrived at Aland early in the next morning. Evelina was already waiting for me to pick me up. I had four great days on Aland. Evelina showed me around the island, we explored new areas, did some hiking, watched an amazing sunset, played god for some ants, visited an old castle, tried some Aland specialities and much more.
Thank you Evelina, you've been a great host and I really enjoyed spending time with you. Also thank you to your flatmates Thoa and Oona for letting me stay at your place for three nights.
On Saturday in the afternoon my ferry to mainland Finland left. Since I had no other plans, I tried to hitchhike north to Vaasa after one night in the tent a little bit outside of Turku. On my way, a woman asked me if I was hungry and then she invited me to her place and made me some food. What a nice surprise. This was the first time, someone who picked me up, invited me to their place and it shouldn't be the last time. After eating, we discussed what the best route for me would be and then I continued north.
Thank you so much!
I made it to Pori and then Yyteri where I was surprised to see a big sand beach. I found a great place for my tent and then I met two french girls who were also looking for a place to camp so they joined me.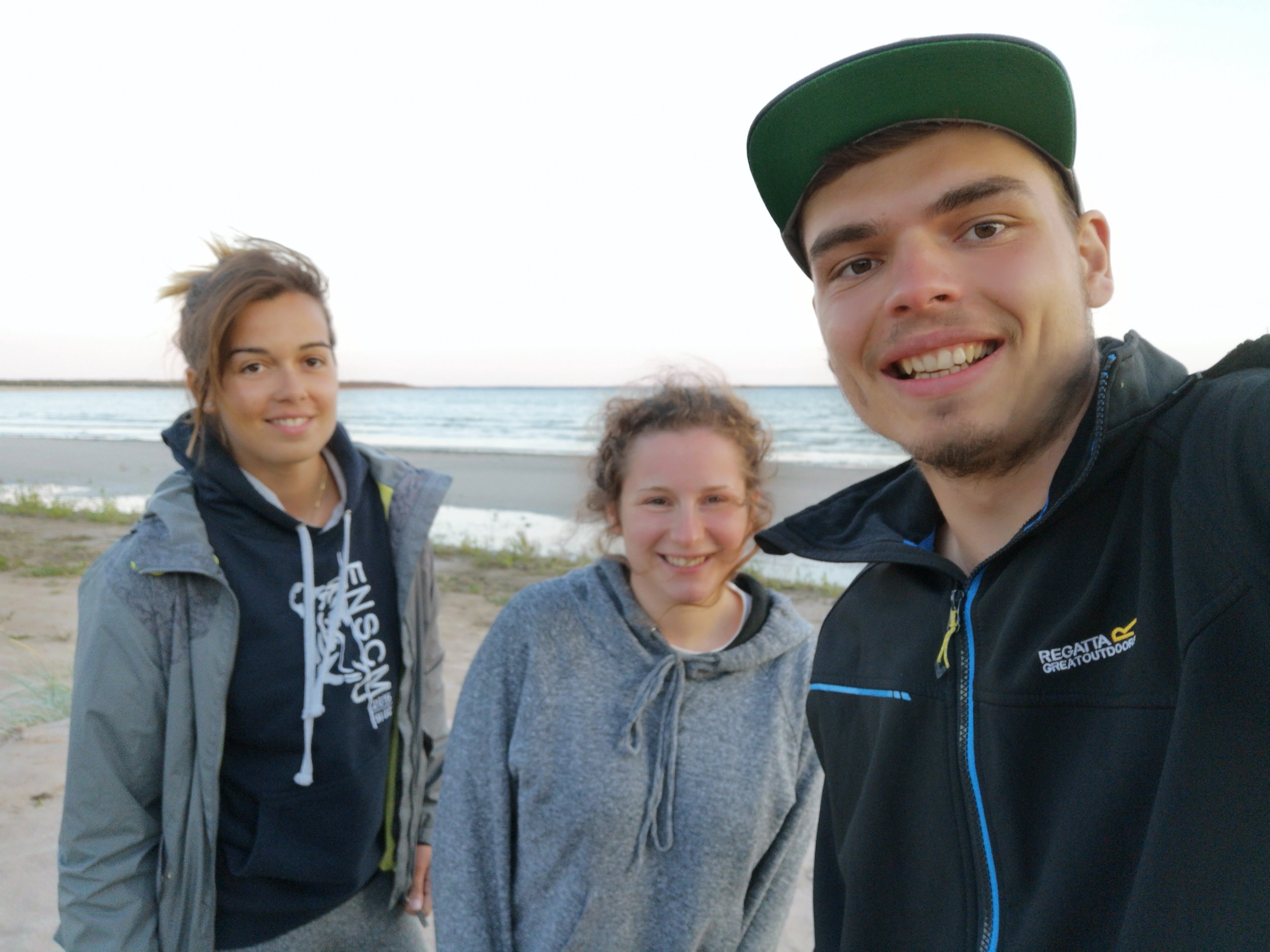 After swimming in the sea the next morning I continued to Vaasa.
Judith, the girl from Germany that recommended me to go to Vaasa, asked a friend of hers if I could stay at her place for one night so I had a place for the night. It was great.
A big thank you to both Judith and Luca for being so spontaneous and friendly.
After Vaasa I didn't continue north but more to. the middle of the country. The next stop was Tampere. I was quite lucky and found a guy from Gambia that took me nearly all the way to a gas station a little bit out of Tampere where he bought some food for me.
I have the feeling that I only meet the nicest of the nice people. And if you think it cannot get any better than this, then you're wrong.
I waited about one hour and was already looking for a place for my tent because it was getting quite late and it was also cold. It was frustrating because many cars passed and no one seemed to recognize me. And then the following happened. A guy stopped and said that he would only go to the city center. I thought: "at least I'm not at this shitty bus stop anymore. Maybe I find someone in the city that takes me a bit outside of Tampere where I can put up my tent."
So I got in the car and on my way to the city, I asked him, if he knows a good place to sleep in the tent. After some thinking he said: "You know what, actually you can stay at my place."
I couldn't believe my ears. "Yes I have three boys but they are at their mothers place so there is a whole room free."
So this is how I met Harri. He is 39 years old and loves all different kind of sports. For the rest of the evening we had food together and then we played Fifa on the Playstation.
He had to work the next day so I thought I also need to leave very early in the morning but he said that I could sleep as long as I want and as he was only working until 1 pm, he asked if I wanted to stay longer and we could go to sauna together. All of the people I met so far here in Finland told me, that I can't leave the country without having been to a sauna here. So that's exactly what we did. We also played disc-golf together. In the end I stayed from Tuesday until Saturday in Tampere. We went to a Lenin museum, played Minigolf (I know I lost… just by one shot), football, went to a funpark where we tried the biggest roller-coaster… I felt like a child again.
Thank you so much Harri for everything. It was a pleasure to spend time with you.
One day before I left Tampere I found out that one good friend of my cousin is doing her semester abroad here in Tampere so I texted her if she was free and since she didn't had any plans we met for one afternoon. Such a funny coincidence.
I have four days left in Finland. On Tuesday I booked a ferry to Estonia to Tallinn so I need to be in Helsinki at latest on Tuesday. Finland was amazing so far but I am also really looking forward to Estonia.
Thank you for reading and thank you to all the people who made this trip so amazing for me.
As always, here some more pictures of the things that happened during the last weeks: