It is unbelievable. The first month of traveling is already over. Time flies but I also made many many amazing experiences in the last couple of weeks.
Leaving Stange felt a bit strange again. I knew that I wouldn't meet friends along the way for nearly one month. So just me, myself and my backpack. Martin (the Norwegian guy from the cabin) showed me a great route around Norway that sounded good to me. I continued north to the Galdhopiggen, the highest mountain of Northern Europe. I stayed in Odda and the next day I hiked up the Galdhopiggen. It took me three hours to get to the top and about two and a half to get back down. I chose the more difficult route and I could see why this was the more difficult one. It was so steep and there was no path most of the time, just rocks. The weather was perfect and the view on top at 2469 meters was amazing.
It was probably the best thing I did so far on this journey but just until then because what followed was not less exciting and even more breathtaking. I did the Trolltunga, Preikestolen and Kjerag. 3 of the must-see's when you're in Norway.
But first things first. After the Galdhopiggen I was so tired that I booked a cabin for myself because I needed a bed and a shower. The next day I continued to Geiranger where I had an amazing view over Norways most popular fjord. A group of young people from Poland took me there.
After that I hitchhiked further north to Trollstigen.
On a ferry I found a couple from Austria and they took me there and dropped me at Andalsnes. They where on their way to the north cup and the only Austrians I've seen in a while.
I spent two nights in Andalsnes because I found a nice place right next to the sea.
Then I continued to Alesund where a Truck driver picked me up. He was from Lithuania and at a gas station he bought breakfast for us and before he dropped me off, he gave me some money for the ferries that I was going to take on my way down the west coast.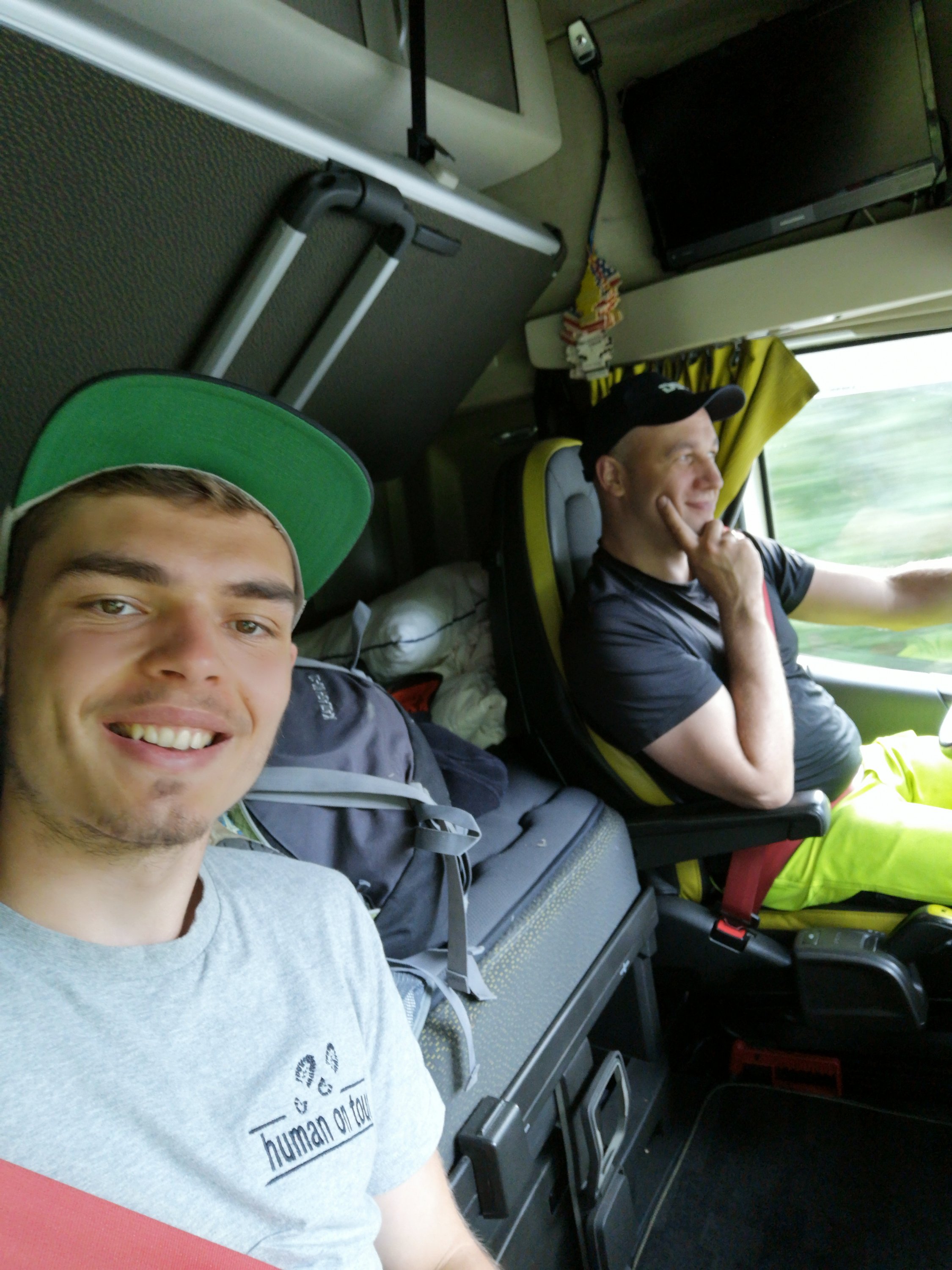 In Alesund I spendt the day with a guy from Denmark. Klaus was Speer fishing the last three weeks and was now waiting for his flight the next morning. He told me about his experience in travelling the world and it was a nice day.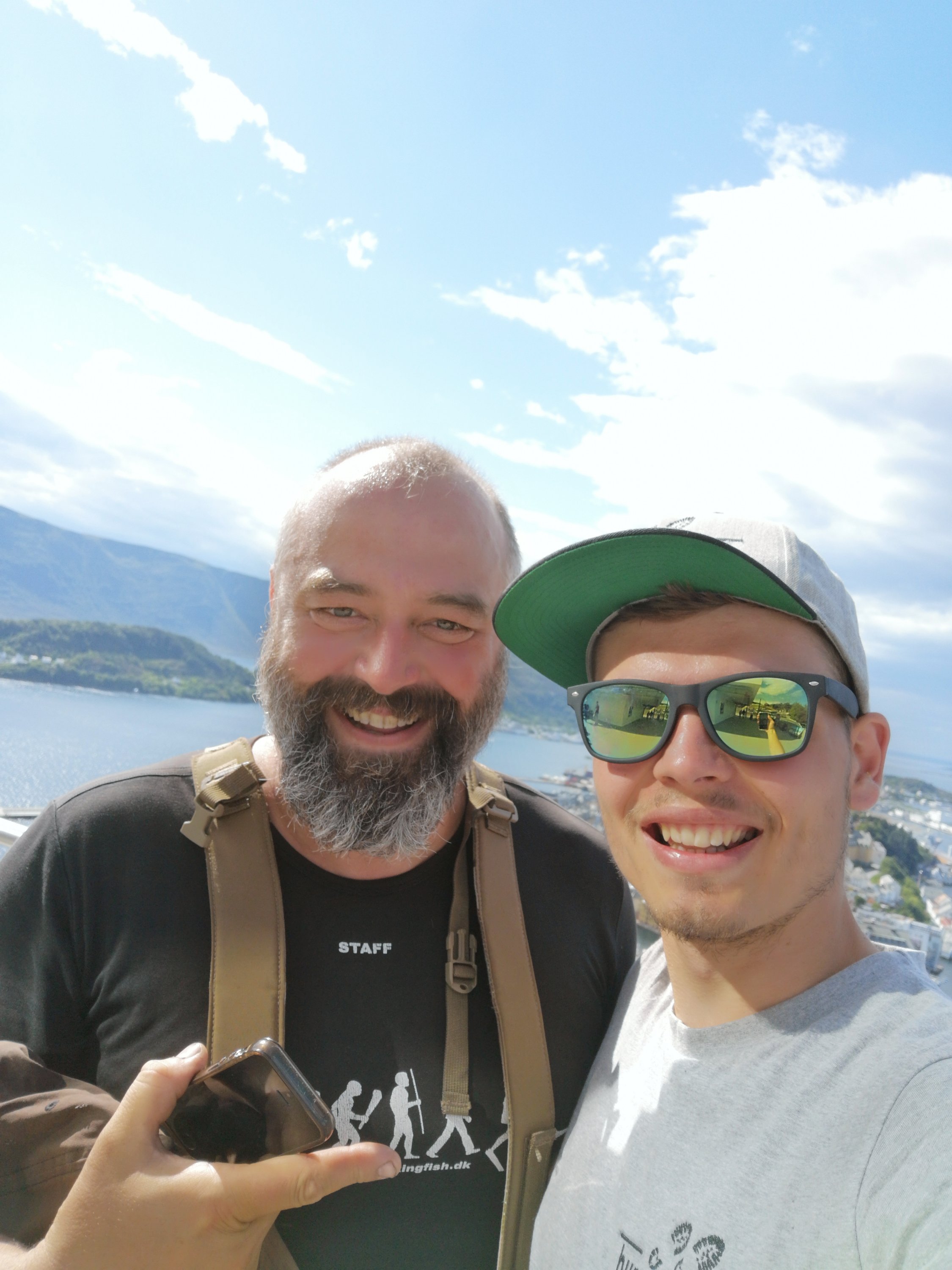 In the evening I tried to catch a ride a little bit outside of the city. From there I tried to catch a ride more south the next day. I was lucky and I found a young couple from Belgium and they went all the way down to Bergen.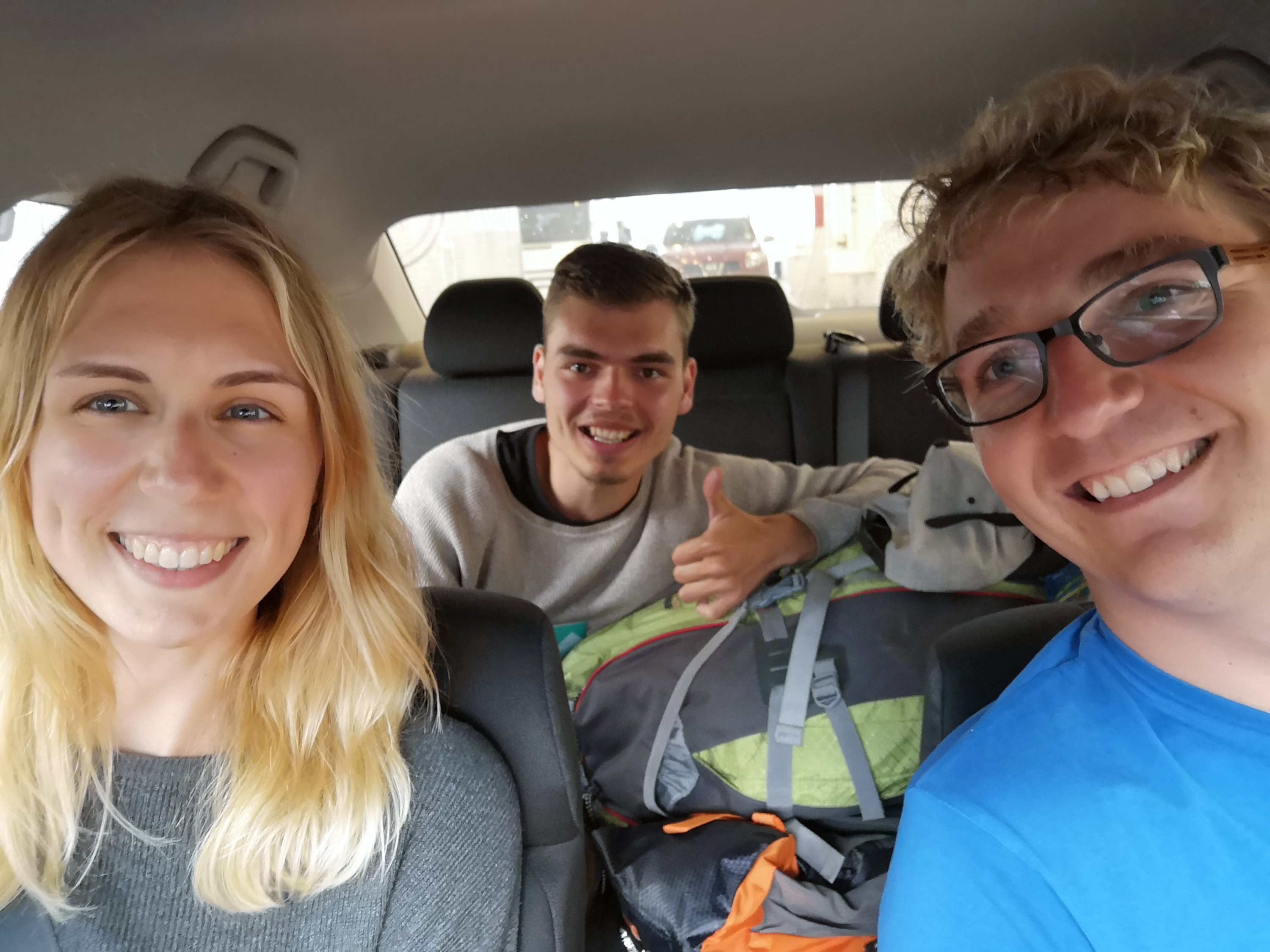 At first I didn't wanted to go all the way south but the weather was bad so I joined all the way down to a camping place a bit outside of Bergen.
There I saw that the weather was getting worse after the next few days so I skipped Bergen and catched a ride directly to Odda the next day to hike up to Trolltunga. It's a 11 km hike in one direction and I've heard that many people hike up in the afternoon and sleep in the tent up there. So that's what I did. On my way up I met a family from the Netherlands with 4 children around my age and a young German couple. I was happy that I didn't had to hike up alone and we had a great time hiking up. When we arrived at the Trolltunga not too many people were there. So we didn't had to wait long until we could take some pictures.
After that we tried to find a place for our tents and I had dinner with Milan and Tabea and we enjoyed the nice view and beeing alone next to the Tunga.
The next morning I woke up at 5 to see the sunrise but it was cloudy so I just took some pictures at the Trolltunga again and then went back to sleep. Even at 5 in the morning there were about 15 people there. Then I hiked back down together with Milan and Tabea and they took me back to Odda in their Bully.
It was nice to meet you and thank you for your company.
After Odda I spendt two days alone in my tent in Röldal because the weather was not so good. I found a great place and I somehow enjoyed being alone. I relaxed and then I was ready for Kjerag and Preikestolen. The next day I hitchhiked to the starting point of Preikestolen where I slept in the middle of the woods somewhere. The next day I started at half past 7 in the morning. It was a shorter hike and I made it to the top in about 90 minutes. Just before all the other tourists came.
On my way up I met a guy from the Netherlands. Twan was ftraveling with two friends and he also wanted to do the Kjerag so we decided to do that together because his friends were not sure if they would do it.
We made it to the starting point of the Kjerag at around 7 in the evening and because one mountain a day is not enough, we started our hike. After a couple hundred of meters we put up my tent, put all the heavy stuff in it and just continued with one tent and the things for the night. We made it to the top at a little after 9 where we were nearly the only ones. Just two guys were there and when they left we were alone. It was amazing and my knees where shaking. There was just this small stone and then it was 1000 meters straight down. Nevertheless I managed to overcome my fear and take some awesome pictures.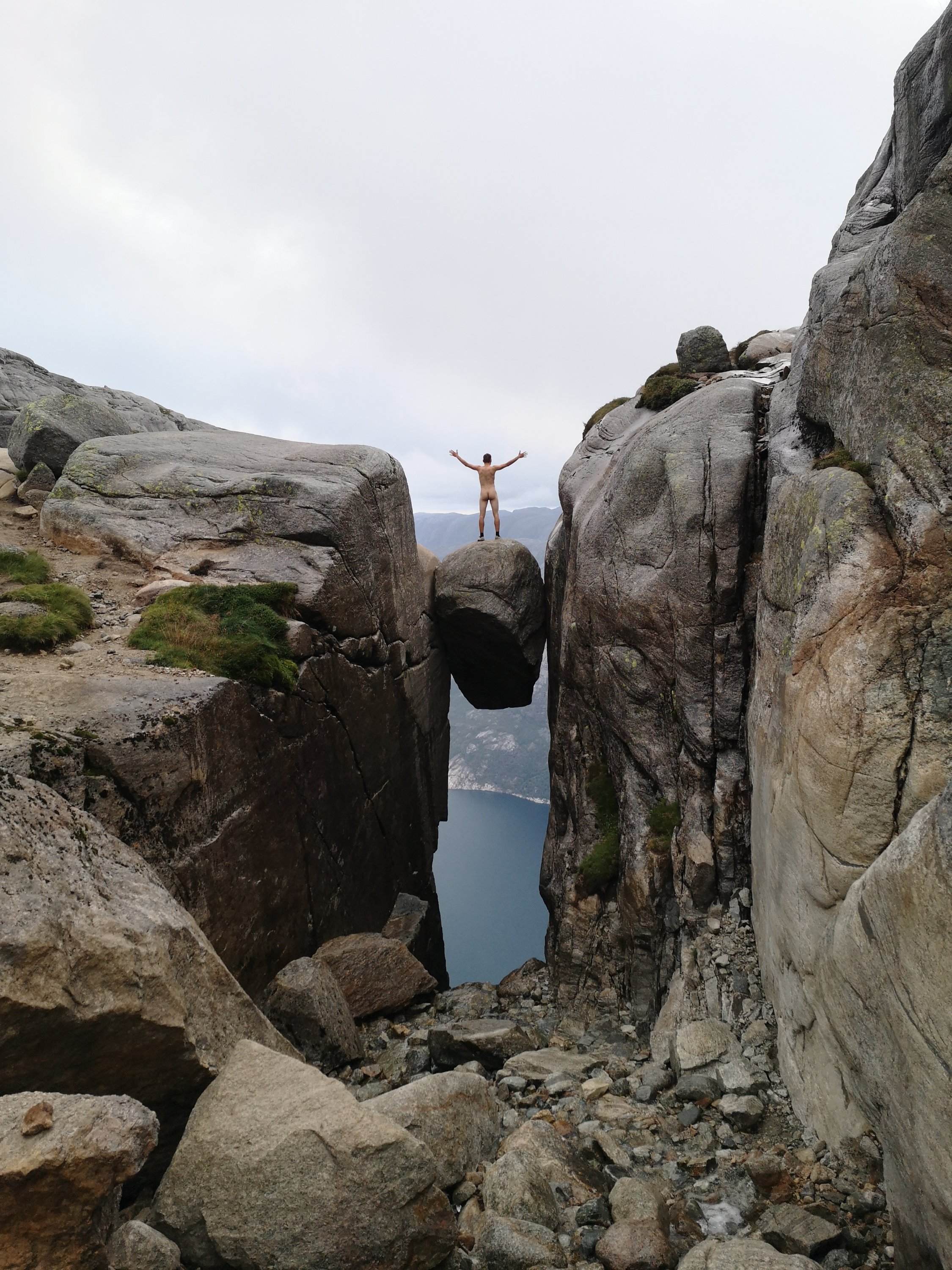 Don't look down, don't look down, don't look down.
Then we put up our tent. It was so cold, even in the sleeping bag my feet didn't get warm. But it was worth it. The next day, the weather was not good and it was exhausting to walk all the way down.
I hitchhiked together with Twan for the next two days to Kristiansand where we met his friends again and his ferry left from there. We spent one night in Flekkefjord, where we went to the cinema to watch the new "mission impossible" movie because some parts of it where filmed at Preikestolen where we had been just two days before.
On our way to Kristiansand Alain from Belgium picked us up and brought us all the way to Kristiansand. He was also traveling alone and he was about to stay on a camping place in Kristiansand. When we told him, that we would sleep in a tent somewhere next to a river, he decided to join us. We had a great evening and nice talks.
The next day in the morning Twan was already gone because they had their ferry very early in the morning.
It was nice to meet you Twan. You were a great travelmate.
Alain brought me back to the main road and I tried to catch a ride to Oslo because Martin, the guy from the cabin again, asked a friend of him
to host me for one or two nights. After two weeks of sleeping in the tent I was really looking forward to sleeping on a real mattress again. It worked out fine and after six different cars I made it to Oslo. A big thank you to Martin and Jostein, Eileen and Birte for hosting me.
I also want to thank all the people who picked me up so far when I was hitchhiking. It worked great so far. Especially in Norway where I was very fast most of the time. 78 cars picked me up so far and every single ride was very nice and friendly.
Thank you for reading. Right now I'm in Oslo and tomorrow I will continue to Sweden. I'm already excited for the next few weeks.
Here are some more pictures of the things I did and these awesome people I met so far: